The Ninoy Aquino International Airport in Manila, Philippines has done it again. After having redeemed its name from being voted as the world's worst airport in the years 2011-2013 via a survey conducted by 
The Guide to Sleeping in Airports
, Philippines' main airport has once again reached new heights of notoriety. On November 4, Greta Van Susteren discussed the issue of bullet planting on her show 
On the Record 
over at Fox News. Called in the Filipino vernacular as 
laglag-bala
(literally translated as "dropping bullet"), the alleged scam is an extortion ploy that appears to target foreign tourists and returning migrant workers. The scam has had a reported number of 30 victims in the past 12 months, 5 of which were reported in just the past couple of weeks.
[adinserter block="3″]
[adinserter block="8″]
However, in an interview with an anonymous source published on ABS-CBN News, the online news portal of the local TV network, it was divulged that the extortion scam has been going on for 2 decades now. The source, a wife of a deceased airport x-ray screener, said that before it caught the attention of the media, the scam claimed more than 20 victims a day. The scam has allegedly been an ongoing open secret among the airport staff and officers. To execute the ploy, an x-ray operator conspires with a spotter, the one who plants the bullet in the passenger's luggage. Once the victim's luggage has gone through the x-ray screen and the bullet has been detected, the passenger is whisked away for questioning. The questioning officer then offers the easy and convenient solution of paying a "fine" to resolve the situation. The fine ranges from 500 pesos (approximately $11) to 30,000 pesos (approximately $636). The extorted money is then divided between the spotter and x-ray screener. The target of this scam are passengers on connecting flights who are most likely to refuse the inconvenience of being held for questioning and detention which may cause them to miss their flight. It is easy to pick out victims as the involved airport personnel only have to check the address label on luggage and balikbayan boxes.
[adinserter block="7″]
[adinserter block="2″]
Click "NEXT PAGE" to know more about this horrendous scam!
An Unknowing Victim
Lane Michael White (left, photo below) is one of the victims of the bullet planting scam at the Ninoy Aquino International Airport. The 20-year old White arrived in the Philippines on September 17 with his family for a missionary trip to Palawan, an island province south of Manila. The bullet was allegedly detected before they boarded their connecting flight to the said province a day after their arrival.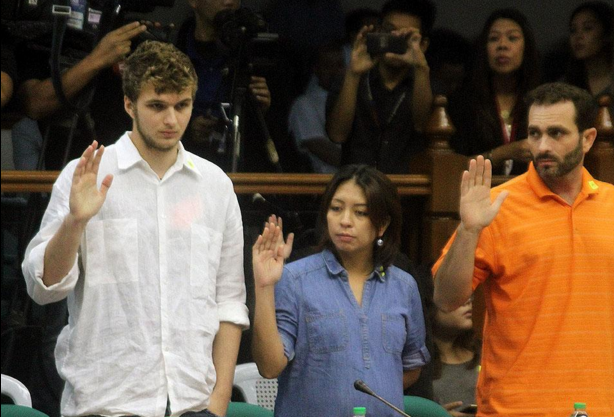 [adinserter block="3″]
[adinserter block="8″]
At the senate hearing on this alleged extortion ploy, White's stepmother (middle, photo above), Eloisa Zoleta, revealed that an aiport personnel recommended paying just a fine of 30,000 pesos (roughly $638) or it would be a higher amount – up to 80,000 pesos or roughly $1,700 – once it reaches their headquarters. The personnel, identified as Police Officer Junio, also made questions regarding the family's livelihood.
[adinserter block="7″]
[adinserter block="2″]
Read more about the bullet planting scam in the Philippines. Click "NEXT PAGE" ⇒
Hilarious Memes
The Filipino people, known for being a nation that can find humor in even the most dire scandals and tragedies, have taken to the Internet to create memes about the bullet planting scam. The memes are meant not only to make light of the situation, but also to humorously criticize the airport officials and the government.
The meme below says, "Our agriculture has been booming, we are now also planting bullets in the Ninoy Aquino International Airport."
[adinserter block="3″]
[adinserter block="8″]
Some travelers have resorted to posting pictures of Davao City Mayor Rodrigo Duterte, one of the longest-serving mayors in the country. Duterte is credited for the cleanliness and low crime rate in his city. The 70-year old mayor is notorious for being an unforgiving fighter of crimes. He once said that he would feed bullets to anyone caught involved in the bullet planting scam, the same way that he feeds cigarette butts to anyone he sees smoking in prohibited places.
[adinserter block="7″]
[adinserter block="2″]
Click "NEXT PAGE" for more hilarious memes about this shameful scam!
More Memes
"Starter pack" memes have become a commonplace in social media, and the bullet planting extortion scam in the Philippines was too much for this guy to resist. In line with protecting suitcases from unscrupulous airport personnel, a travelers' starter pack of cling wrap, packaging tape, luggage, and padlock was suggested.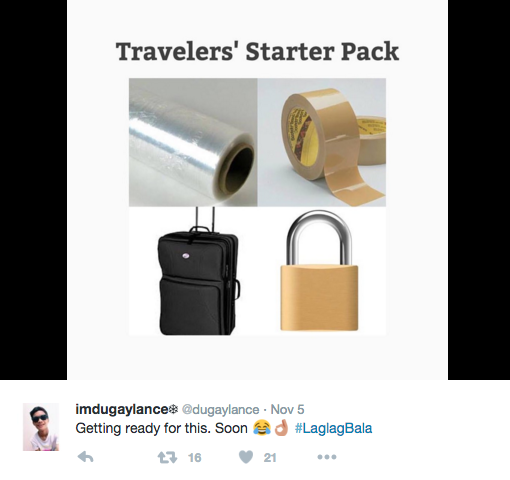 [adinserter block="3″]
[adinserter block="8″]
Definitely one of the most creative memes is this one that is based right off the famous 4 Pics, 1 Word game. Just like in the well-loved game, four picture clues are given, all of which pertain to the 4-letter word that the player has to guess. Picture #1 is an image of farmers with their backs bent as they plant rice; picture #2 is an image of a plance; picture #3 is an image of a couple of suitcases; and picture #4 is an image of 2 bullets. Can you guess the word just yet?
[adinserter block="7″]
[adinserter block="2″]
Read more about how Filipinos find humor in this situation. Click "NEXT PAGE" ⇒
A Funny Game
A group of game developers has taken the bullet planting scandal to new heights of notoriety by creating a Google Play game aptly titled, Tanim Bala, or "bullet planting". The overview of the game reads, "These greedy Administrators want to plant a bullet in your bag and if they succeed.you'll end up paying $1000. Of course you would not let them do that!
Now, you'd have to move the cursor from left to right as fast as you can to avoid the bullets that fall to your luggage."
[adinserter block="3″]
[adinserter block="8″]
Precautionary Measures
This traveler decided to forego posting a picture of the notorious city mayor and instead resorts to a blunt warning that says, "Reminder: I love my family; I am not an idiot; there is no bullet in my suitcase." It appears that both foreign and Filipino travelers have gotten worried about traveling via the Philippines' main airport.
[adinserter block="7″]
[adinserter block="2″]
Click "NEXT PAGE" to find out how travelers try to evade bullet planting in the airport ⇒
More Precautionary Measures
Filipinos have taken to dire measures in order to evade the costly and highly inconvenient bullet planting scam. While some witty travelers have resorted to placing faces of the feared Mayor Rodrigo Duterte, who promised to provide free lawyers to bullet planting victims, some travelers have taken to the simple wonders of the cling wrap. The photo below shows the young Philippine contingent to a robotics convention in Qatar, with their luggage carefully cling-wrapped.
[adinserter block="3″]
[adinserter block="8″]
With the bullet planting scam yet to be resolved, travelers are understandably hesitant to visit the Asian peninsula. However, it would be such a shame to totally shut out the Philippines from your list of must-see places as their beaches are glorious and their people are truly warm and hospitable. Instead of avoiding the country, here are precautionary steps to undertake:
[adinserter block="7″]
[adinserter block="2″]
Craving for more taboo news? Click →HERE← for a really controversial read!