1. Blair O'Neal:
Blair O'Neal has been modelling throughout her golfing career and has been named to different lists of the most beautiful Female Athletes and Female Golfers by magazines such as Sports Illustrated.
O'Neal won the NCAA Longest Drives contest twice as a student at Arizona State University. Blair can also be seen in the Golf Challenge Show "Big Break" where she won an exemption for the 2011 LPGA Kia Classic.
2. Belen Mozo:
This brunette is striking more than drives down the fairway. She's a Spanish beauty that began playing golf at the age of 8. She represented Europe in the 2004 Junior Ryder Cup at 16 and was a semi-finalist at the 2008 U.S. Women's Amateur. While playing for USC she managed 6 Top Finishes for the school and was a 3 time All-American. She also helped her native Spain finish second in the 2008 Women's World Amateur Team Championship and European Women's World Championship.
Mozo joins PGA greats Craig "The Walrus" Stadler and his son Kevin Stadler as USC Alumni Professional Golfers but we'd bet there's only one of them you'd want to see in a bikini. Mozo stands at 5'6″ and has posed nude in ESPN The Magazine's Body Issue.
3. Sophie Horn:
While she's never played on the LPGA Tour Sophie Horn has been around the golf world for a while, and no one is complaining at all. The beautiful blonde had a promising amateur career when she won the Norfolk County in her native England.
Horn has worked mostly with magazines and in television for various golf related outlets. She was the Golf Nurse for "Golf Punk" magazine where she offered advice and help for aspiring golfers. Sophie has been GQ's resident golf expert since 2011 and in 2012 released a jaw dropping calendar.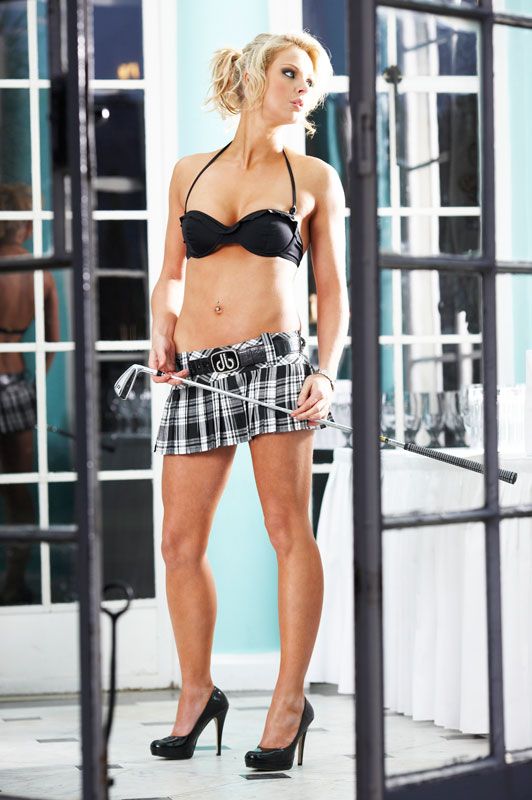 4. Kathleen Ekey:
#4 on the list is the elfin good looks of Kathleen Ekey, Ekey has been playing golf since she was 3 and became a Pro in 2009 and joined the LPGA in 2012. She's played in 16 tournaments and has 4 wins under her belt on both the Symetra and LPGA tours.
Hailing from Cleveland, OH Kathleen went to the University of Alabama where she averaged a score of 73.
5. Sharmila Nicollet:
Hailing from India Sharmila Nicollet is a brunette and an absolutely stunning woman. She turned Pro in 2009 and has had 11 tour wins. Sharmila was born to a French Father and an Indian Mother in Bangalore India.She is considered one of the most glamorous golfers on tour as she's done numerous magazine shoots and is considered a hero in her native India.
Sharmila is also an accomplished swimmer and won numerous gold and silver medals at state and national levels in India. She took up golf at the age of 11 and represented India at the Asian Games in 2006. She was the youngest woman to win the All-India Ladies National Championship in 2007-2008.Sharmila is only the second woman to qualify for the Ladies European Tour and leads the way for golf in India, which is becoming a player on the world golf scene.
6. Beatriz Recari:
Coming from Spain after crushing the amateur ranks Beatriz Recari has been on the LPGA tour since 2010. Standing only 5'4″ she's one of the shortest ladies on this list but she also one of the most amazing to look at. Recari was a wunderkind as amateur, winning the 2004 Spanish Amateur Championship and the 2005 French Amateur Championship.
She's been on the Spanish National Team and helped them win the 2004 European Team Championship. She was also a runner up at the British Girls Championship. In 2012 Recari entered 27 events and made the cut in all 27, enjoying 5 Top-10 Finishes. That amazing year helped her to cross the $1 million mark in career earnings in 2013.
7. Ryann O'Toole:
We aren't done with stunning beauties from California on this list yet as Ryann O'Toole also hails from the Sunshine State and also makes you think of sandy beaches and ocean front views.
O'Toole is a blonde with a dazzling smile and a wicked swing! She turned pro in 2009 and has 3 tour wins under her belt. This bombshell can also bomb drives averaging 261 yards off the tee she ranks 11th on tour for drive distance. Her career earnings are over $550k.
8. Michelle Wie:
Perhaps no golfer since Tiger Woods has made such a splash when they went pro as long and lean Michelle Wie. She was a sensation at 16 when she turned pro. Wie was the youngest person to ever qualify for a USGA Amateur Championship at the age of 10! The child of South Korean immigrants Wie was born in Hawaii and, like Tiger, attended Stanford University where she was a golf standout.
Wie's mother Bo was an amazing golfer in her younger years as well when she was South Korea's Woman's Amateur Golf Champion in 1985. Bo also competed in the Miss Korea beauty pageant when she was younger so Michelle gets it honest!Wie has over $5 million in earnings on tour and is one of the most beautiful young women on the tour.
9. Sara Brown:
She goes by Sara "No-H" Brown on social media but this bubbly young lady is all about golf and being lovely to look at. She may be a bit short at 5'5″ but she's an accomplished player. She earned her LPGA card in 2011 on the golf challenge show The Big Break.
Sara is surrounded by golf with her Father owning the Cactus Tour and her husband Derek Radley being the assistant golf coach at Arizona. Brown recently got a hosting position on The Golf Channel's Playing Lessons show.
10. Melissa Reid:
Coming from the UK Melissa Reid comes in as the English Rose on the list. The tall blonde has a winning smile and is a terror on the golf course. She turned pro in 2007 and has had a family tragedy derail her career a bit but she's back and won the Turkish Airlines Open in May of 2015 by 4 strokes. The win was her 5th professional win.
Before she went pro Reid was the best amateur finisher at the Women's British Open in 2007 finishing tied for 16th.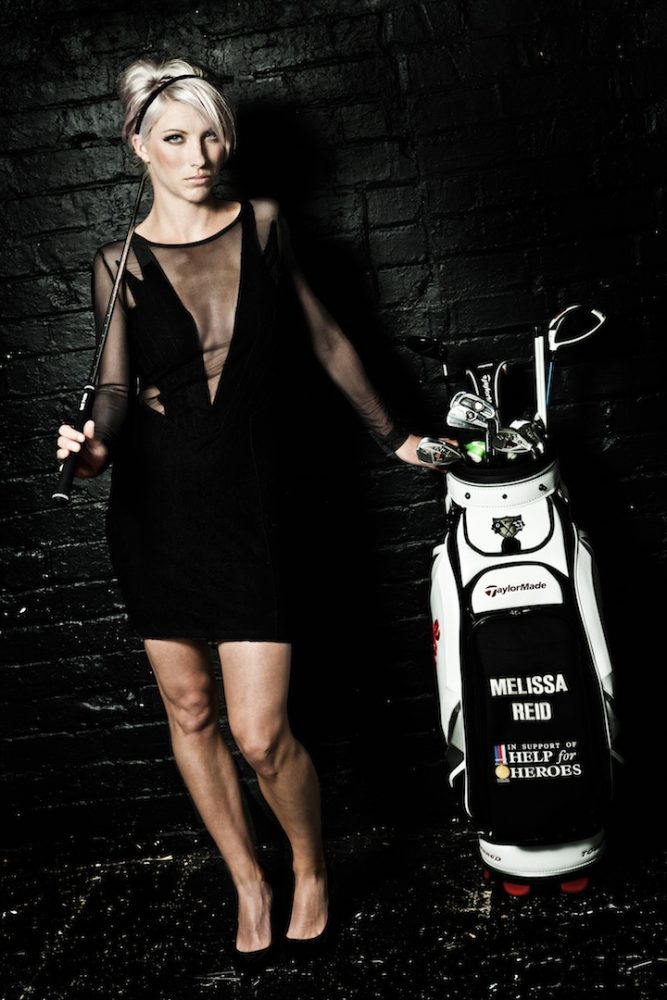 11. Sandra Gal:
The long graceful Sandra Gal comes in from Germany at #10. Gal stands 6 feet tall and is all style and grace. She turned pro in 2008 and has won 1 tour event since.Sandra was on the German National Team and at the age of 18 won the German National Girls Championship. Gal attended the University of Florida where she won for NCAA events and was an Academic All-American 3 times.
Sandra's strengths on the course don't stop at her great looks or long legs, she's currently ranked 3rd in putting average. So watch her walk up to the green closely, because she won't be there long. Sandra has over $3 million in tour earnings in her career.
12. Lexi Thompson:
Beautiful Lexi Thompson came storming out of Florida to become the youngest woman to ever qualify for the U.S. Woman's Open at the age of 16. Since then she's been lighting the LPGA on fire with 6 wins adding another on the European Tour.
Thompson has recently dyed her hair red from blonde but it's hard to mistake the 6 foot lady crushing golf balls and hearts on the tour. Lexi's older Brother Nicholas is also a Professional Golfer on the PGA tour while her younger Brother Curtis plays on the Canadian Tour. So don't get too hands on with her!
13. Cheyenne Woods:
The newest golfer on our list Cheyenne enjoyed her rookie season in 2015. If you're wondering, yes her last name is rather important as the 2 time All-American Wake Forest Alum is the Niece of Tiger Woods.
Cheyenne doesn't need the name drop to make a name for herself as she's already in the Top 20 on the LPGA in Eagles and is averaging 73.22 scoring. Cheyenne does share one thing with her legendary Uncle, an electric smile.
14. Danielle Montgomery:
One of the tour's "Glamour Girls" Danielle has been featured in many calendars and photo shoots. One of her most famous was a 2009 Calendar featuring female golfers where she did homage to Jan Stephenson's 1986 pose when she appeared naked in a bathtub full of golf balls. Montgomery's 2009 shot was almost identical.
While Montgomery hasn't had much success on the tour, the English born beauty has been playing since 2012.
15. Maria Balikoeva:
This tall drink of water from Russia is the first Russian woman to qualify for the Woman's European Tour. Maria won the Russian Amateur Championships twice, first in 2004 and again in 2006.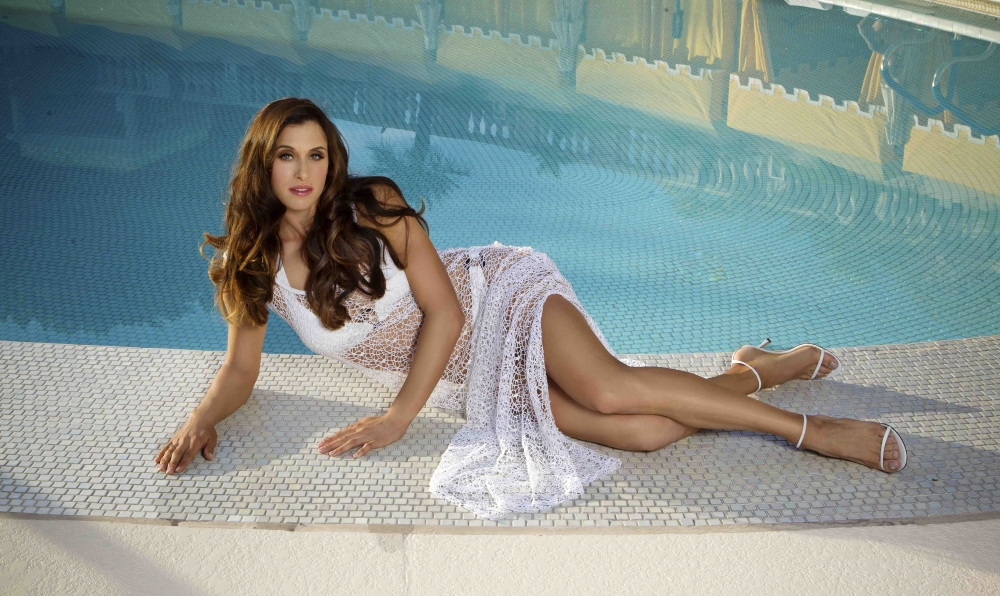 Balikoeva studied sports at Moscow State University. She married in 2012 and had a child she named Maria in the same year.Balikoeva's best finish on the European Woman's Tour is a 4th place finish in 2013.
16. Natalie Gulbis:
No "Hottest Women in Golf" list would be complete without Natalie Gulbis on it. Not only is Natalie drop dead gorgeous but she's a bit controversial as well in 2005 she released a calendar with racy photos of herself in it and it was banned by the USGA from being sold at the U.S. Women's Open. Gulbis is one of the first "Sex Symbols" Ladies Golf has known.
Her bright smile and winning personality has made her one of the most famous female golfers on tour. Gulbis has become the Anna Kournakova of the LPGA, beautiful to look at but doesn't do much in the sport. While she's earned close to $5 million on the tour she's only to date won one tournament.
17. Anna Rawson:
Our first Aussie on the list is the model turned golfer Anna Rawson! Rawson started modeling at 16 when she was a finalist in a magazine cover contest for "Dolly" magazine in Australia. While her modelling career blossomed Rawson managed to join the Australian National Squad in 1999. From there she played on the USC Golf Team and was an All-Pac-10 honorable mention 3 years in a row.
Rawson earned her LPGA card in 2007 and in her career enjoyed 1 Top 10 finish. She hasn't entered a tournament since 2010.