When you think about one of the most hyped items in today's world, the first thing that can pop into your mind is global warming. In general there are many stances, theories, and general facts being thrown around fairly loosely, the problem is when it comes to actually sitting down and trying to find out if the right resources are being referenced or not.
A major reason why so many people are looking into this general idea is because it can truly affect so many people in so many ways. When you think about how people live their day to day lives, or if you are thinking about how current businesses go about their work in general, there is already a strong reason that people have a dog in this proverbial fight. The livelihoods of some people are hinging on the results of this argument, and if you aren't looking at the underlying issues you can already see why it's so important to be able to get the facts first.
When you start to question the underlying motivation and the possible implications that occur when certain sides start spewing lies, you can see why it's even more important to keep the facts in front of you. The ability for the government to be able to have their grasp around just one more issue with respect to businesses or personal regulation, or the ties that certain politicians may have with certain energy startups and companies could also mean reasons for them to jump into the foray without backing up claims with facts. Instead of being caught in the mudslinging, why not consider some of these items as the most important reasons to question the current trend of global warming?
1. Is the Book Closed On Global Warming?
Everyday new evidence emerges that continues to suggest global warming isn't a real thing [http://www.express.co.uk/news/world/609497/Climate-change-shock-Earth-s-natural-global-coolant-discovered]. Or rather, while there are suggestions that say it is a real thing, the Earth already knows exactly how to combat it.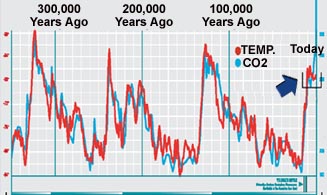 With scientists saying that the Earth is able to drop temperature and have natural cooling occur, there are truly some questions that come to mind with the legitimacy of the global warming trend.