Like every other professional sports league world wide the National Basketball Association or NBA has many players that occasionally run afoul of the law. Oftentimes young men who suddenly come into great sums of money can behave irresponsibly and have to deal with the law. Other times players come from disadvantaged communities or backgrounds and are continuing earlier patterns of crime.
Many outside commentators will also argue that the league does not do enough to educate young players how to deal with a quick rise and the fame and money that comes with being so good on the court. Many of the major sports leagues have started to institute policies designed to help curb arrest related problems. This includes getting tougher on things like domestic violence, drugs and any other activity that may get a player arrested.
Teams are doing this in order to keep their players on the court. Even if the player who is arrested makes it out of jail league officials may still keep them from getting on the court. There are also tons of costs associated with negative images and press that arrested players may bring to the sales of team tickets and merchandise. In the following list we will go over 17 NBA players that have been arrested. It does not matter whether you are the biggest basketball superstar on the planet or a rookie straight out of college-the long arm of the law even extends to our most popular sports figures just like anyone else.
↓

17 NBA players who have been in trouble with the law↓
17. Dennis Rodman
Dennis Rodman is possibly the most polarizing figure in the history of the National Basketball League-possibly even in modern sports as a whole. The man challenged conventions while dominating on the court and even after his retirement from professional basketball he continues to echo in the public consciousness.
His flamboyant style and wacky antics have led him to become and remain a media superstar. His frequent trips to North Korea keep him in the spotlight. However some of his brushes with the law including arrests for domestic issues as well as problems related to alcohol use and abuse.
The biggest name in basketball can't win you immunity from the law, click Next Page to see who's next→
16. Kobe Bryant
Before the Lebron James era and after the Michael Jordan era we had Kobe. Kobe Bryant was the biggest name in basketball and led the Lakers to numerous championship victories over the years. He had been scouted since his early teens and was seen as the second coming of Jordan.
However in July 2003 a story broke that Bryant had been accused of sexual assault in a Colorado hotel. A worker at the hotel, The Lodge and Spa at Cordillera, accused Kobe Bryant of rape. Charges were later dropped after the employee refused to testify.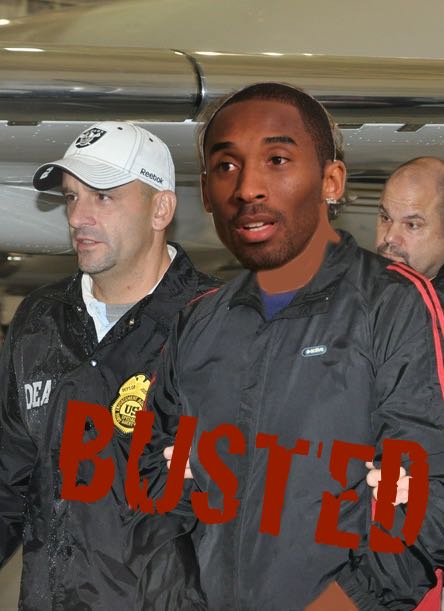 Gambling, drugs, and running over children is this next players downfall, Click Next Page to see who→
15. Charles Smith
Charles Smith started playing in 1989 for the Boston Celtics. While he was not drafted in the 1989 class he did manage to get a roster spot for Boston. He only ended up spending one year playing in the NBA. Up until 2001 he played for numerous leagues includes ones overseas.
In March of 1992 Charles Smith was arrested and sentenced of vehicular homicide after he ran down two students near the University of Boston in March of the previous year. He was sentenced to prison and managed to make it by 2010 when he was shot in his home. While he survived the shooting police found evidence of gambling and drugs in his home.
 Keep it in your pants, next guy!! Click Next Page to see 'who done it'→
14. Ruben Patterson
This baller was picked up in the 1998 NBA draft by the Los Angeles Lakers. He had been playing in the Euro league the year before. He stayed in the NBA until 2007 when he retired from the Los Angeles Clippers.
In September 2000 Patterson was arrested after allegations arose that he attempted to rape the nanny who watched his children. He was also arrested for various domestic violence charges as well as property destruction. In 2010 he was also arrested for driving while intoxicated.
You can't just sweep $800,000 under the rug, click Next Page to see who's next→
13. Antoine Walker
Walker began playing in 96 and ended his career in 2008. He played for a number of different teams including the Grizzlies, the Heat, and many more during his long career. He was named an All-Star 3 times during his tenure in the league. Antione Walker first got in trouble in 2009 when he caught a DUI charge in Florida.
He was also later arrested in 2009 in Las Vegas, Nevada after refusing to pay over 800,000 dollars in gambling debts at Harrah's Casino. Not paying loans for gambling is a felony crime in Nevada. He eventually received probation in that case and is currently paying the casino back.
Bouncing balls and soliciting prostitutes. Click Next Page to see who's next→
12. James Worthy
James Worthy is considered to be one of the best basketball players in the history of the game. A 3 time NBA champion as well as an MVP during the 1988 NBA finals Worthy left his mark on the sport for generations.
He has been in some trouble during his life though. In 1990 he was arrested for a sex charge after being arrested for solicitation of prostitution. He paid his bond and was eventually released and plead down the charges against him.
This next guy is living the life of a troubled teen, click Next Page to see who's next→
11. Allen Iverson
Allen Iverson is possibly the most famous 76er of all time. He was crowned from a young age as a future champion and he did not disappoint on the court. He spent many years playing and making millions of dollars for teams throughout the NBA. He was a dual threat playing as a shooting and point guard.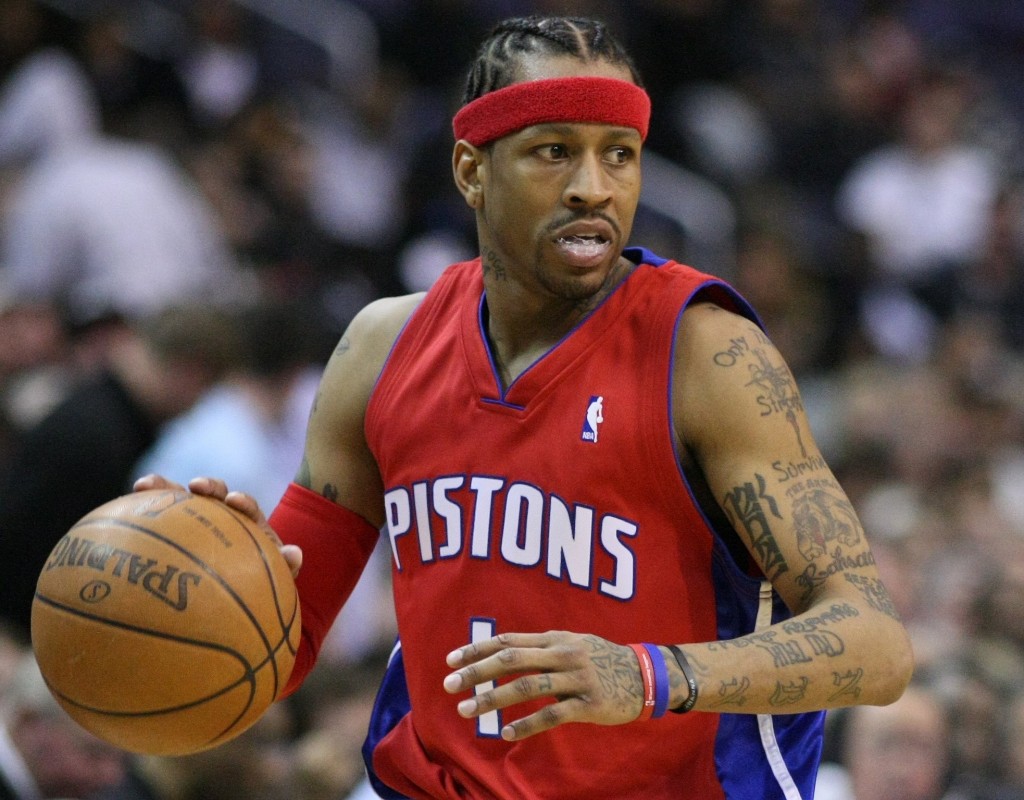 Iverson also had his fair share of run ins with law enforcement. Among his arrests include possession of marijuana, having a concealed firearm, urinating in a trash can and a whole other slew of arrests related to gambling and drug and alcohol use as well as domestic issues with wives and girlfriends.
 This next guy has been arrested over 100 times and now serves a life sentence in prison→
10. Fast Eddie Johnson
Eddie Johnson, known by his nickname Fast Eddie was a huge presence in professional basketball. He played for 10 years between '77 and '87 and spent the vast majority of his time playing on the famed Atlanta Hawks. Unfortunately after his career playing basketball ended his life ended up spiraling out of control with numerous arrests.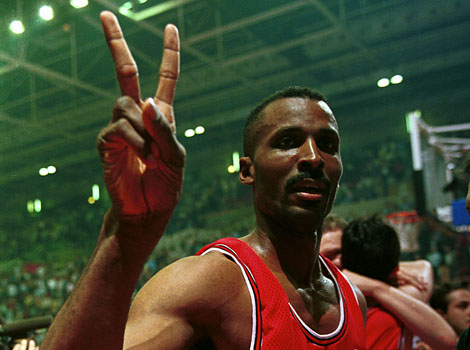 He was arrested over 100 times for many different crimes. Some of these crimes included sexual battery, burglary, molestation, and many more. He is a sad case of talent wasted. He is currently in prison for life due to the rape of a 12 year old child.
What do you expect to happen when you play with a gun?? Click Next to see who's next→
9. Jayson Williams
Jayson Williams, born in 1968 was a professional basketball player who played for both the Philadelphia 76ers and New Jersey Nets. While he was a very competent player during his time in the NBA he ran afoul of law enforcement in 2010.
Williams had been playing around with a gun and accidentally shot and killed a limousine driver. Due to the fact that the shooting had been an accident and that Williams who had not been in trouble before he was sentenced to 18 months in prison and got out in 2012.
 Drugs man, WHY?! Click Next Page to see who's next→
8. Isaiah Rider
Isaiah Rider is one of the best players to ever make it out of the San Francisco Bay Area. He grew up in Alameda, a small city very close to Oakland, CA. He started his career on the streets of Oakland and eventually made his way to the University of Nevada at Las Vegas where he attracted a great deal of attention.
He went onto play for a number of different teams including the Atlanta Hawks, Los Angeles Lakers, and more. After stopping his NBA career he was arrested for cocaine possession, running from the police and charges related to drugs. Since his arrests and jail time he claims to be rehabilitated.
 Just in the wrong place at the wrong time. Click Next Page to see who's next→
7. Deshawn Stevenson
This player was with the Dallas Mavericks, Atlanta Hawks and other pro basketball teams. Compared to some of the other NBA players arrested for various crimes his do not seem so horrible. He was stopped in 2011 in Texas and charged with public intoxication.
Since he was released from the Atlanta Hawks in August of 2013 he has largely kept out of trouble and has not had any more run ins with the law. He currently resides in Texas and is not playing for any other professional sports league.
Getting behind the wheel after a few drinks has never ever ever been a good idea! Click Next Page to see who this dummy is→
6. Charles Barkley
Charles Barkley is one of the most explosive personalities to ever hit the game of basketball. During his years playing he was considered one of the best players on the court most of the time. After his stint as a basketball player he moved into a celebrity commentator role working for the NBA and for the television network TNT.
His record is far from clean, however. In the 2000s he racked up a driving under the influence arrest and conviction while driving to meet a woman-hope it was worth it.
Let's go back to 1953. Click Next Page to see who this next bad boy is→
5. Jack Molinas
Jack Molinas is perhaps one of the most famous basketball related criminals of all time. His fame was originated on a world famous point shaving scandal that left him and the league in disgrace. Jack Molinas only spent one season in the NBA…1953 to 1954.
He played for one year for the Fort Wayne Pistons in Michigan before he was banned from the league for having bet on his college games when he attended Columbia University. In his later years he became a bookie and regular gambler and was caught and arrested many times for gambling related crimes. He died in August of 1975.
You just don't do that, next guy!! Click Next Page to see what he did →
4. Jason Kidd
Jason Kidd is a familiar name to any fan of basketball from the 1990s until today. His days on the Phoenix Suns were legendary among other players. He is still involved in the league in a big way and he is currently the head coach of the NBA's Milwaukee Bucks.
While he was a player in the league he was very well respected and his talent for strategy on the court led to his current gig as a head coach. He was arrested in 2001 for domestic violence stemming from issues with his then wife, Jouanna. He is currently divorced from her and has not gotten into any kind of trouble since those charges were brought.
Know about the famous Ed Martin Scandal? Click Next Page to see who was involved→
3. Chris Webber
Mayce Edward Christopher "Chris" Webber III is one of the best basketball players ever to set foot on a hardwood court. He won all star honors a total of 5 separate times and played for multiple teams during his tenure as an NBA all star. Even during his first year playing he won rookie of the year honors.
He played for the Golden State Warriors, Sacramento Kings, and a few other teams. Webber was involved in the famous Ed Martin Scandal which involved point shaving and money laundering in order to cover up various gambling proceeds. This scandal tarnished Chris Webber's name and he has still not recovered from the issues caused by the scandal.
Manslaughter just sounds so much worse than it is. Click Next Page to see 'who done it'→
2. J.R. Smith
J.R. Smith is the first player on our list that is currently playing in the National Basketball Association. Right now he plays for the Cleveland Cavaliers but has played for the New Orleans Hornets, New York Knicks and even the Golden Bulls which is a team in Zhejiang China. He played for them when the NBA was locked out during the 2011 season.
In 2009 JR Smith was involved in a vehicular accident which eventually led to criminal charges. While he may have been charged with manslaughter he eventually plead down and spent a few months in jail. Since that arrest JR Smith has been an exemplary citizen and player.
Marijuana, guns and money caused this players downfall, click Next Page to see who's next→
1. Corie Blount
Corie Kasoun Blount was a power forward in the National Basketball Association. He started his career at the University of Cincinnati making it to the finals twice during his time at the school. He eventually joined the NBA where he played for the Cavs, the Warriors and a few different other NBA teams. He was a very large NBA star from the early to late 90s and even starred in a film.
Corie Blount was arrested in Ohio with a very large amount ofmarijuana, guns and money. In 2009 he eventually plead guilty to all of the charges levied against him and is currently serving his time in a federal penitentiary.