THE 20 NFL PLAYERS WHO LOST ALL THEIR MONEY.
We all know that more money means more problems and of course one of those problems, at least for some people, is spending more than you have. Not everyone is cut out to make smart investments. However, some players spend like there's no tomorrow. You'd think that there would be some basic principle in sports that would apply to spending money. Like you can't get points if you don't have the ball or something like spending more than you have is like spiking the ball for the other team. In the field of sports, athletes make a lot of money. When it comes to money some of them are smart and some have, well, they made this list. Getting their big ticket in pro sports must make these players feel real lucky, but luck had nothing to do with them losing it all. I can't blame them though, because wouldn't you spend your money on flashy cars, large mansions, outrageous parties, and expensive entertainment systems if you were in the same position?
Impulse buys aren't generally a great idea, in fact they usually lead to regret. When buying high priced items that are over a million, it's important to take stock of your situation, at least that's what I've learned from these NFL players. People who become wealthy manage to stay wealthy by being shrewd. It involves making smart investments that bring back profitable returns to keep the cash flowing in and it probably makes sense to have a financial manager. Someone who can help in managing finances and gives good financial advice. Otherwise, like these guys you'll just set yourself up to lose all your greenbacks. What do you think? Would you be another NFL player who had it all at one point but ended up losing it all?
20. Dan Marino, QB
Dan Marino is a former quarterback for the Miami Dolphins and is now a football analyst. He suffered a massive financial setback after losing an investment he made. The investment was in a company named Digital Domain where he purchased 1,575,525 shares in the company.
This company was responsible for creating the hologram of Tupac Shakur at the Coachella in 2012. This may have been a confidence builder for Marino to invest his money in expectation of success to come just like it had at the show. Unfortunately, it apparently resulted in a loss of $ 14 million for Dan Marino after the company declared bankruptcy.
19. Michael Vick
Michael lifetime earnings were estimated to be more than $ 130 million. He was in the top 10 list of richest athletes in the world. He had a $ 139 million contract with Atlanta Falcons and commercial contracts with Hasbro, Air Iran, Coca-cola, EA Sports and Nike among others.
Michael Vick was imprisoned for being part of a dog fighting group. He was suspended from NFL, forced to pay back his signing bonus of $19.97 million to the Atlanta Falcons and all his commercial deals expired. He declared bankruptcy while still in jail. Fortunately for him, he found a job with the Philadelphia Eagles.
18. Lawrence Taylor, LB
Lawrence was a player for the New York Giants and is considered one of the greatest defenders ever. His earnings were estimated to be around $ 50 million. It was only five years after retirement he was declared bankrupt. Lawrence was found guilty of tax evasion and lost millions that he put to his company All-Pro Products.
He was charged with drug possession on numerous accounts and spent thousands of money every day on cocaine. He apparently spent money on prostitutes who he sent to his opponents before big games to tire them as was rumored. In addition to his wild lifestyle, he failed in several business ventures.
17. Terrell Owens, WR
Terrell Owens made an approximated amount of $ 70 million during his career. He played football in the NFL for 11 years. After that, he failed to keep his life together. It got to a point that he owed a total of $ 446,000 in child support payments and $ 400,000 in taxes to the IRS.
On top of the debt, Terrell had also made some bad investments that failed to make any returns on his money. His failure in handling his money correctly rendered him broke by 2011, and it was then that he declared his state of emergency to the court.
16. Warren Sapp
Warren was a player for the Buccaneers and the Raiders. He was also a Hall of Fame football star. He spent most of his money on luxuries. He has 240 pairs of shoes in his walk-in closet which were unnecessary. He also had a $ 4.1 million home that he decorated with lion skin rugs.
All this outrageous purchases slowly drained his money and in April 2012, he listed $ 6.45 million in assets and $ 6.7 million in debt. It was not that long after retiring from his career that he declared bankruptcy that was not that surprising.
15. JaMarcus Russell
He played the position of quarterback for the Raiders during his years in the NFL. The Raiders cut off all ties with him, and a short while later he was arrested for possession of codeine syrup. He did not possess a prescription for the controlled drug.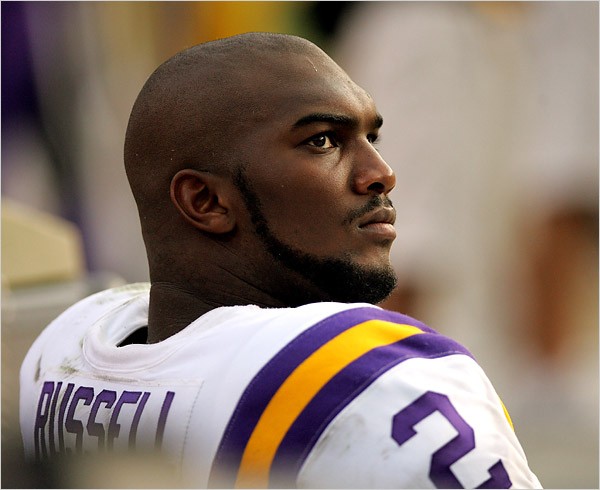 He fell behind in mortgage payments even after claiming he was fine financially. Russell was forced to pay lien to California, which amounted to more than $ 200,000 in taxes. He may have been able to deal with hits in the field but he unfortunately failed to deal with them in real life.
14. Tiki Barber, RB
Tiki Barber overcame the odds to play in the NFL. He often suffered seizures and had a lung ailment. The doctor advised him not to play sports when he was young, but he was determined to play and finally he did. He was the number one running back for the Giants.
After retirement, he started working on TV. NBC fired him for violating a morality clause in his contract. He left his pregnant wife for a 23-year-old intern. After getting fired, he tried to go back to the NFL but he was unable to do so. It cost him his reputation, and he lost his money.
13. Andre Rison
Andre Rison was a wide receiver with the Cleveland Browns. He signed a contract with them in 1995 where he earned an amount approximated to be $ 17 million. This is a lot of money that he no longer has nor does he have anything to show for it. It was in 2007 that he was ordered by the court to declare bankruptcy due to pending unpaid child support.
Five years later, he was sentenced to 5 years of probation and ordered to be a restitution of $ 300 for the child support he was unable to pay. He spent his money and lost it all to a point he could not play his financial role and support as a father.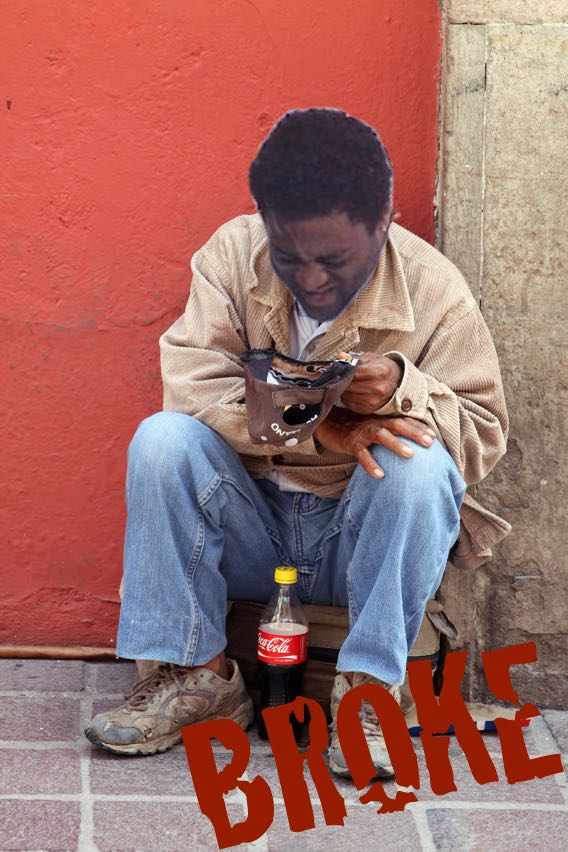 12. Dick "Night Train" Lane, DE
Dick Lane was an American football player nicknamed "Night Train". His position was the defensive back for the Los Angeles Rams. In 1954, he was traded to the Chicago Cardinals and later to the Detroit Lions in 1960. His football career lasted from 1952 to 1965.
It was estimated that he earned a total of $ 5 million during his career. Unfortunately, he blew his money living the lavish life of a celebrity spending his money on drinks and drugs. He made bad investments in real estate and the music business. These poor financial decisions resulted in him losing his money.
11. Vince Young
Vince Young played the position of quarterback in the NFL for the Tennessee Titans. He was also at the Philadelphia Eagles and Buffalo Bills before he was cut off from the team and he became a free agent. Despite earning around $ 26 million after his seasons in the NFL, he made headlines for struggling financially.
His financial planner contributed to his loss by misappropriating funds that totaled to $ 5.5 million. He also took a $ 1.1 million loan that he's had difficulties paying. Vince Young definitely was living young money lifestyle; he was denied a reported $8000 in ones by his credit card company so he could 'make it rain' at a strip club. Also, $5000 was spent weekly at the Cheesecake factory!
10. Mark Brunell, QB
Mark Brunell was the man who led the Jackson Jaguars, which had just instated expansion, to their AFC championship in their second season in the NFL. He was their first quarterback and by the time he retired he had a more than respectable football career.
Not being one of the greatest in the world of American football, he earned more than $ 22 million during his career. Sadly he managed to lose all his money. In 2010, he filed for Chapter 11 bankruptcy and declared that he had a debt amounting to $ 25 million.
9. Raghib "Rocket" Ismail
Raghib Ismail was nicknamed 'Rocket'. He got the name because of his fascinating speed. Even though he did not live wildly and spend his money aimlessly his intellect failed him. His earnings were estimated to be $ 20 million playing Canadian Football League and the NFL. He lost his money due to bad investments in a series of businesses that failed.
They included Rock n Roll café, COZ Records, cosmetics, nationwide phone-card dispenser, tourist shops that sold calligraphy and a movie. He finally worked with a company named Bite Tech that manufactured mouth guards that supposedly protect players from injury.
8. Deuce McAllister
Deuce McAllister earned an estimated amount of $23 million. His career was between 2001 and 2008 where he played for the New Orleans Saints. He filed for bankruptcy in 2009 for his car dealership business. He allegedly owned $75,318,308 plus interest to Whitney National Bank for three loans.
He claimed that his finances were in order, but he was not able to pay because of his failed car dealership business. It seemed unbelievable because the approximated amount he earned was much more than his debt, but he was still not able to pay.
7. Muhsin Muhammad
Muhsin Muhammad was a wide receiver who played for the Carolina Panthers and the Chicago Bears. He was nicknamed "Moose" for his famous touchdown dance. He became a color commentator for the NFL Europe after he retired. His earnings were approximated to be $ 20 million.
He lived a life that he couldn't sustain. He had earlier established a music company called Baylo Entertainment which was sued for allegedly failing to pay back $ 24,603.24 on a Visa Business Rewards Credit. He listed his house for less than he paid for losing money and realizing he had to cut back.
6. Luther Ellis, DT-DE
He was the defensive tackle for the Detroit Lions for nine years and one year for the Denver Broncos. The pro-bowler was very skilled in the game that earned him the ten years of play in the league. While in the NFL, it was reported that he made approximately $ 11.6 million.
He made bad investments based on poor judgment and poor decisions that ended up failing and he fell into debt. Luther and his wife owed hundreds of thousands in mortgage and $ 37500 in delinquent taxes. Just six years after retirement he was relying on the help of area churches and friends after filing for bankruptcy.
5. Archi Griffin, RB
Archie Griffin was considered to be one of the best college football players of all time. He eventually moved to the Bengals. Unfortunately, he did not do great in the NFL. His performance was much less than was expected with a total of just 2808 yards and only seven touchdowns in the seven seasons.
He put the money he earned into his shoe business but it failed, and he lost all his money. He filed for bankruptcy in 1982. He did not lose as much as some players on this list, but he did lose all his money nonetheless.
4. Dermontti Dawson
Dermontti Dawson is an NFL Hall of Fame offensive lineman. He was inducted into the hall of fame for his exceptional performance in the field. Dawson filed for bankruptcy in 2010 after failing to manage his finances properly. He shocked many people when he named his fake Rolex, his weight machine as assets before his file.
He claimed to have $ 69 million in debts, but it was perceived to be too much. He may have been a famous player, but many people failed to see how he could have accumulated a debt as high as $ 69 million dollars.
3. Bernie Kosar
Bernie Kosar is a former player for the Cleveland Browns. Kosar helped his team win many games during his duration there after he left the team has not been very successful. He made around $19 million during his career in the NFL. In 2009, it was discovered that he had $ 44 million in his checking account and negative balance in his Key Bank checking account.
He had a monthly income of $ 1,175, and he also owed a considerable amount of money to a lawn-mowing company that was not only surprising but also humiliating. It makes one wonder how he lost all his money and was reduced to this sad state.
2. Travis Henry, RB
Travis Henry played for the Tennessee Titans, Buffalo Bills, and Denver Broncos. His earnings were estimated to be $20 million. He used to have and played various women and in the end he fathered 11 children by ten different women hence is obligated to pay $170,000 in child support annually.
His five-year contract was cut short after just a year when he tested positive for marijuana and failing to show commitment and seriousness. In the end, he got $ 4 million in fines and a 3-year jail term after being found guilty of taking part in distribution and possession of cocaine. His indulgence in drugs had once again cost him.
1. Chris McAlister, D
He was a Pro-Bowl player for the Baltimore Ravens. He earned an approximate amount of $ 45 million during his career and $ 17.5million in bonuses. He played for 11 years during which he was a three-time Pro-Bowler, one time First Team All-Pro and a Super Bowl champion. He paid $ 11000 each month in child support payments.
He surprisingly managed to waste away all his earnings eventually struggling to pay the child support. This amount that totaled to $ 62.5 million is quite a lot of money that he could have managed well and even increased it, but it all slipped away from him.