Not everyone can be at Time's Square New Year's Eve, but at least think twice before you end up one of these places when the clock strikes twelve.
First and foremost is the awkward kiss situation.
What if you totally get rejected?
What if one of you goes for it more than the other?
What if it turns out you are a bad kisser?
What if there is no good option for a partner?
In Eastport, Maine, you get to kiss an 8-ft sardine at the Sardine Drop.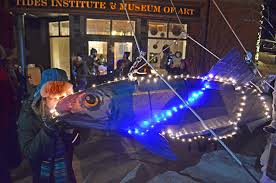 Or you can go to the Brasstown, North Carolina, Opossum Drop.
The Stonehenge Fireball Ceremony could be fun…with plenty of fire extinguishers.
Or worst yet. You could be in Times Square…just a little too late.