If there's one thing all celebrities have in common, it's their appreciation for high-quality vehicles. The most expensive street-legal car – an $8,000,000 Maybach Exelero – belongs to a celebrity (Jay Z), and so does the largest (Tim Allen's) car collection in the country.
They don't care much for factory-condition rides because someone else is bound to have the same one. That's utterly unacceptable for anyone with a Hollywood-sized ego. Yes, some celebrities are truly passionate about cars but most just want to show off. We doubt Flo Rida decided to cover his Bugatti in a layer of 24-karat gold because he's a 'gear-head'. He just wanted to show off to the neighbors, which is totally understandable – Flo's human too.
When celebrities want something really unique, they spare no expense. The best designers, mechanics and engineers collaborate to create the world's coolest, most sensational custom cars. Take a look at some of the most impressive examples and you'll understand what all the hype is about.
Continue to the "Next Page" to see some of the gorgeous and insanely expensive custom celebrity cars.
1. James Hetfield's Old-School Iron Fist
James Hetfield is the face of Metallica, one of the most popular music bands of all time. Hetfield might have lost some of the popularity he enjoyed in the 90's but he obviously kept the Metallica spirit alive. The modified Ford hot-rod was originally a 1936 Iron Fist. Sacramento's  "Blue Collar Customs" basically just did some restoration on interior parts, in addition to stripping all the paint and rust off. They didn't even dare touch up the bumps, scratches and burn marks.
The blood red interior is an exact copy of its original stock insides.  Why is it considered modified? A custom AC system, which can only be seen while it's turned on, was also installed.
2. JR Smith's War Machine
Smith is a small forward/shooting guard for the Cleveland Cavaliers. With a salary of $5 million, it came as no surprise that he decided to upgrade his garage. However, his choice of vehicle – a modified military-grade armored truck – was quite the surprise. The fully bullet-proof War Machine runs strictly on diesel. Sure, fuel efficiency isn't its strong suit but with a truck like that safety is guaranteed.
The kicker is that this isn't just any armored truck – it is the actual War Machine used to shoot "Fast Five"! And just because the truck was used in a movie, doesn't mean it's a prop. All 13,500 pounds of steel alloy are 100% real. After it was manufactured in Oregon, by Terradyne Inc, the original truck was simply stripped of machine-gun mounts and given a "Fast Five" make-over.
3. Will.i.am's Custom Coupe
This fully personalized coupe was made just for Will.i.am. Its interior is similar to a sports car's – most surfaces are made from an aluminum alloy, the steering wheel is easily detachable and the dashboard is reminiscent of a NASCAR control panel. At the same time, the coupe's exterior is completely one-of-a-kind. From afar, the rounded shapes and white-lined wheels make it seem like a well-restored early Cadillac. Yet, once you take a closer look, the state-of-the-art design and precision detail come into focus.
The classic, yet futuristic, coupe was created at West Coast Customs, by the famous "Pimp My Ride" crew. The car was finished almost five years after Will.i.am pitched the idea to WCC. However, they didn't just create the whole thing from scratch – it turns out the $900,000 coupe is a modified '58 Volkswagen Beetle!
4. Kanye's and Jay-Z's Stripped Maybach
This list wouldn't be complete without mentioning the $350,000 Maybach from the 2011 Otis music video. Kanye West and Jay-Z bought one of the most prestigious luxury cars on the market, only to strip it down to a frame and use it for a music video. The "Otis" video is somewhat popular to this day, almost five years after it was released.
The celebrity car was sold as an art piece at a non-profit auction. Though the Maybach's estimated value is $100-150 thousand, it was bought for just $60,000. Jay-Z and Kanye donated the proceeds to the "Save the Children Fund." Basically, they turned $350k cash into a 60,000-dollar tax deduction.
5. Eric Clapton's Custom Retro Ferrari 458
Eric Clapton, the only person to be triple-featured at the Rock & Roll Hall of Fame (as a soloist, a member of "Cream" and the lead guitarist of "Yardbirds"), was a Ferrari enthusiast ever since he could afford it. His favorite model, the 512 BB, was the inspiration for this custom 458's exterior design. The retro-style sports car was put together especially for Clapton, as part of Ferrari's 'One-Off Program'. The idea was to mimic the retro look of a 512 BB without sacrificing the technology of a modern-day Ferrari.
Clapton is definitely satisfied with the outcome. The 458 is packed with top-of-the-line innovations and its modified 'body' resembles a retro Ferrari. The only downside is that Eric wanted a V12 engine, like the one in his 515 BB, but there was no way to fit one into the classic 458 frame.
6. Ken Block's Raptor-Trax
Though his garage is full of impressive modified cars, Ken Block's custom Ford F-150 SVT is, hands down, the coolest one. Technically, it's a snowmobile hybrid but even the factory version is for off-road use, so we still count it as a car. Block took one of the world's most powerful trucks – a Ford F-150 SVT Raptor – swapped the wheels for 4 Mattaracks and added in a Whipple supercharger. He named the resulting 650-horsepower monster RaptorTrax.
As if driving this beast wasn't extreme enough, Block uses it to get to higher ground when snowboarding. He customized it for skiing trips by adding a winch, roof baskets and even a snowboard rack. The roomy interior was outfitted with four "Recaro" racing seats.
7. Rob Dyrdek's '69 Camaro
The pro skateboarder-turned-TV-star, Rob Dyrdek, has a deep appreciation for fast cars. All Speed Customs (ASC) upgraded a vintage 1969 Chevrolet Camaro and gave it a unique look. To really put the "muscle" in Dyrdek's muscle car, ASC swapped in a 6.2-liter, V8 LS3 engine. The vintage look was amplified by black matte paint and red racing strips. Combine that with racing seats and huge bright-red rims and you end up with a car that looks almost as fast as it is.
Dyrdeck put his '69 Camaro up for sale back in 2013. However, his $55,000 reserve wasn't met (the highest bid was just over $32k), so he decided to keep it in the collection. Rob also has a Porsche Turbo, a Bentley Continental, and has recently acquired this 730-horsepower Ferrari F12.
8. Jay Lenno's Eco-Jet
Aside from being an actor, writer, producer, comedian, and TV show host, Jay Lenno is a hopeless gear-head. His collection includes a number of the most expensive and rare cars in existence. Moreover, he has his very own customs crew (Big Dog). Although he owns many other modified vehicles, Lenno's GM Ecojet is the most spectacular custom car in his garage.
The Ecojet is a concept car that runs on clean-burning fuels (jet-engine fuel or bio-diesel). Lenno worked directly with General Motors in order to build one. Though it has some familiar GM features, the exterior design is as unique as the Ecojet's engines. Nevertheless, it is totally street-legal. Lenno says he loves running on bio-diesel because the engine fumes smell just like french fries.
9. Kim Kardashian's Modified Ferrari 458
Kim Kardashian is one of those celebrities who's famous just for being famous, so a Ferrari is, in a way, the perfect car for her. Her custom white 458 Italia has a price tag of $325,000. L.A.-based Platinum Motorsports designed it just for Kim. Rumor has it, the car was a gift from her ex-boyfriend, Kris Humphries.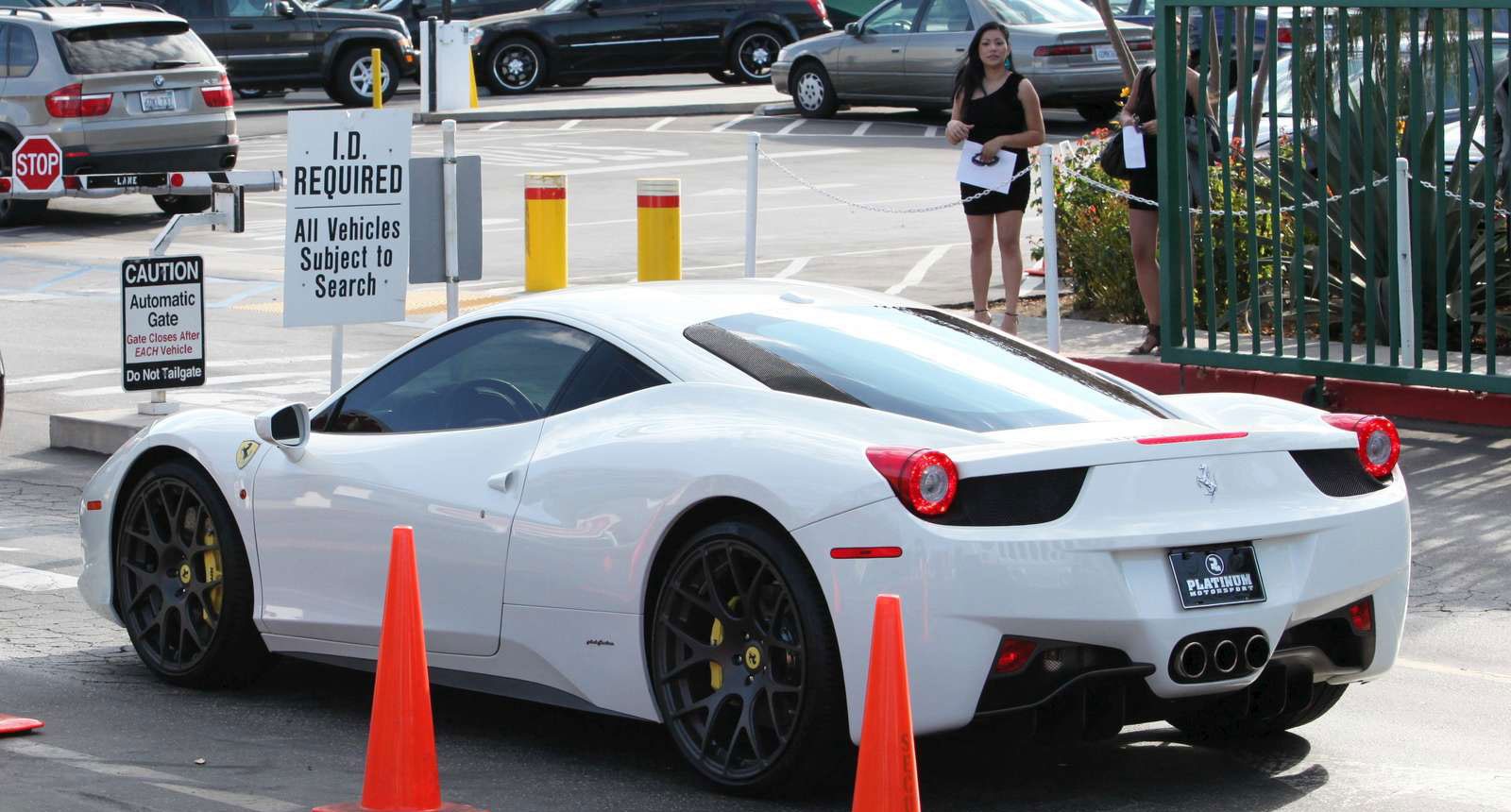 Car junkies everywhere are at a loss about why the Kardashian needs a 562-horse power car with dual-clutch transmission. The Ferrari 458 is a full-fledged sports car, even featuring F1-style suspension, so seeing Kim lazily drive it around L.A. seems like a waste of vehicle to some people. Well, they should see the rest of her fleet, particularly her two Rolls-Royce Ghosts, Bentley and customized Mercedes G63, among a few others.
10. Tyga's Golden Merc SLS
Some rappers just have a thing for gold, though Tyga is the only one obsessed with the pink kind. His Mercedes-Benz SLS isn't the first car Tyga covered in rose gold. Almost all of the rapper's rides have been at least partially golden. When he gave his Twin Merc SLS the treatment, Instagram blew up over photos of his rose-gold sport cars next to each other. Tyga even plated his iPhone in pink gold to match his rides.
Rumors have been emerging about the rapper's financial situation. Though it's unverified, there's information about a $90k debt to the IRS. Of course, if things really are tough for Tyga, he can always sell off his rose-gold Lambo.
11. Joel Zimmerman's Nyan Ferrari
Joel Zimmerman, the progressive house music sensation known as Deadmau5, customized his Ferrari 458 Spyder with a one-of-a-kind finish. He chose to modify the convertible 250,000-dollar sports car with an image of Nyan Cat. It doesn't get much more original than a brand new Ferrari with graphics of a Pop-Tart cat who poops rainbows. Yet, somehow, the light-blue Spyder looks kind of pleasant with Nyan stickers.
When Zimmerman's YouTube channel got popular, pictures of his 'Ferrari Nyan' circulated the social networks for just a few days before Ferrari contacted him and asked for the stickers to be removed. He tried to keep them but was eventually forced to comply.
12. Jay-Z's Maybach Excelero
Before the rap star decided to buy one, the Excelero was technically a concept car – almost none were ever produced. Jay-Z spent $8 million to become one of the car's only owners. It features a V-12 engine and a top-of-the-line double turbo system, yet the Maybach can barely go faster than 200mph, due to the fact that it weighs almost 2.5 tons.
Everything about this car says luxury, from the sleek exterior design to the carbon-fiber interior. Driving an Excelero would make anyone fell like a celebrity, not that Jay-Z needs a Maybach for that.
13. The Fisker Karma's
The Karma is a rare model of a little known car brand called Fisker. They were only manufactured over the span of two years (2001-2003), so there are less than a hundred Karma's left on the road today. Yet, over a dozen of them have been bought by celebrities and most were customized. Justin Bieber's chromed-out Karma is the most well-recognized but there are many driving around Hollywood.
There's a Fisker Karma in the garage of Julio Jones, Al Gore, Ashton Kutcher, Ice T, Tommy Lee, Joe Jonas and Leonardo DiCaprio, among many others. Beiber's is famous for the numerous pictures of him being fined for the mirror-like finish (accidents can result from obstructed sight due to glare caused by chrome paint).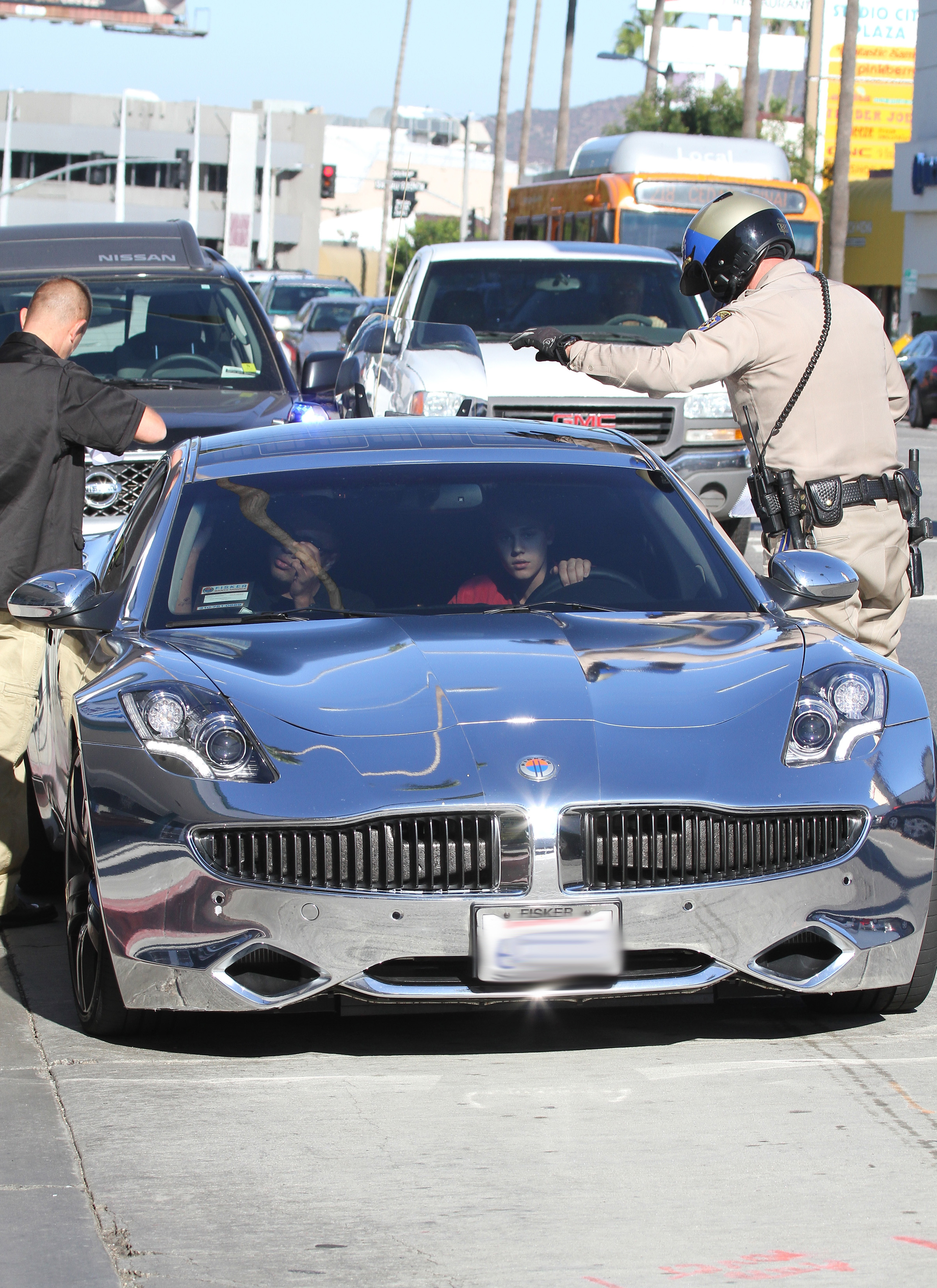 14. David Beckham's Rolls Royce
The most recognizable player in modern soccer, David Beckham, is an avid car enthusiast. His customized Rolls Royce is the drop-head Phantom. It may look a lot like the original but Beckham personalized countless details of that luxury vehicle, including the seats, mirrors and even the hood ornament.
Beckham gave it the blacked-out look, with tinted windows, black rims and classic black paint. Meanwhile, the interior is made out of white leather and beige carbon fiber. The soccer star sold the Phantom in 2012 and replaced it with another Rolls Royce – a 2011 custom Ghost. Since then, he pretty much takes it everywhere he goes.
15. Christiano Ronaldo's McLaren High-Sport
Sure, tastes differ – what seem immensely cool to some is perceived as boring and plain dumb by others; but every rule has at least one exception. When it comes to luxury vehicles, the McLaren MP4-12C is definitely an exception. Its exterior design is the chocolate of 'eye candy' – it's admired by absolutely everyone.
Christiano Ronaldo's High-Sport version doesn't look much different because the modifications are all internal. It features a 691 horse power engine and a carbon fiber rear deck for insanely fast acceleration. The High-Sport is so fast, they had to apply an upgraded down force diffuser and a next-generation air-break system to match the handling capabilities of the original McLaren.