A lot of people love fast food even though we know it's bad for us. Even if it makes us feel guilty, there's something about a burger and fries that's hard to resist. In fact, over 25% of Americans consume fast food every day. Maybe because it's easy to get, quickly served in a casual environment, and tends to cost less than a week's wages.
In the early 2000s, we were obsessed with the quality of hamburger patties and the meat used to make them. Nowadays we read about bugs being used for red coloring in milkshakes and a handful of other gross facts about the food we love so much.
So, how about some things you may not know? These ones are guaranteed NOT to make you disgusted with yourself the next time you chow down on a super-sized combo meal.
1. Ronald Had A Funky Hat
After Santa Claus, Ronald McDonald is the most recognizable figure in America. In 1963, Ronald's first look had him with spaghetti-like hair, a red and yellow striped suit and with a tray with hamburger, fries and a milkshake worn as a hat and around his waist.
Two years later, Ronald got a major makeover which gave him the look for which he is best known. 2014 gave Ronald a new wardrobe: though he's kept his big red shoes, instead of the old jumpsuit, he now sports yellow cargo pants and matching vest over a red and white striped rugby shirt.
2. They Have A Secret Menu
KFC, Whataburger and Sonic are just three of the many fast food restaurants that have secret menus that you can't see when you're standing in line. These secret menus can have items ranging from extra fillings to sourdough bread to completely new foodstuffs!
And if you know what they have, you can ask for it. You can visit hackdamenu.com to find out how to order some of these the next time you go to your favorite restaurant: Chipotle's Burritodilla or Quesarito, Jack in the Box's Loaded Grilled Breakfast Sandwich or Mint Oreo Cookie Shake, Subway's Pizza Sub and more than a dozen frappuccinos from Starbucks!
3. Taco Bell Doesn't Have Beef
In 2011, Montgomery, Alabama law firm Beasley, Allen, Crow, Methvin, Portis & Miles claimed that Taco Bell was using false advertising by saying it used "seasoned ground beef" or "seasoned beef" in its products. According to the legal complaint, the meat mixture sold by Taco Bell contains binders and extenders and does not meet the minimum requirements to be labeled as 'beef' set by the USDA.
Apparently, the mixture was tested and found to contain less than 35 percent beef. The lawsuit also says that the "seasoned beef" contains ingredients including water, wheat oats, soy lecithin, maltodextrin, anti-dusting agent and modified corn starch.
4. The Colonel Hated The Chicken
After leaving KFC, Colonel Sanders came to hate the company due to gravy recipes being changed to save money and other changes to the quality of food. Some choice quotes from the colonel that were included in the biography Colonel Sanders and the American Dream are: "It's my face that's shown on that box of chicken and in the advertising. It's me that people recognize, and they stop me everywhere I go to complain.
The damn SOBs don't know anything about peddling booze, and they sure as hell don't know a damn thing about good food!" And when, in 1976, he visited a KFC in Greenwich Village in New York, saying the chicken there was "the worst friend chicken I've ever seen" and the gravy was "nothing more than wallpaper paste."
5. Pizza Hut's Most Expensive Pizza
It cost roughly $1,000,000 for Pizza Hut to make a delivery to the International Space Station. In 2001, Pizza Hut became the first company in history to deliver pizza straight to the astronauts on the ISS. It took nearly a year of collaboration between Pizza Hut and Russian food scientists to create the world's first pizza that is consumable in space.
The pizza included a crispy crust, pizza sauce and cheese, but had salami instead of pepperoni and was only six inches in diameter in order to fit into the oven aboard the Station.
6. Chick-Fil-A's First 100
When a new Chick-Fil-A opens, the first 100 people get a free meal every week for a year. Chick-Fil-A's "First 100" event invites 100 members of the community to spend twelve hours at the restaurant in order to win one chicken sandwich meal per week for a year.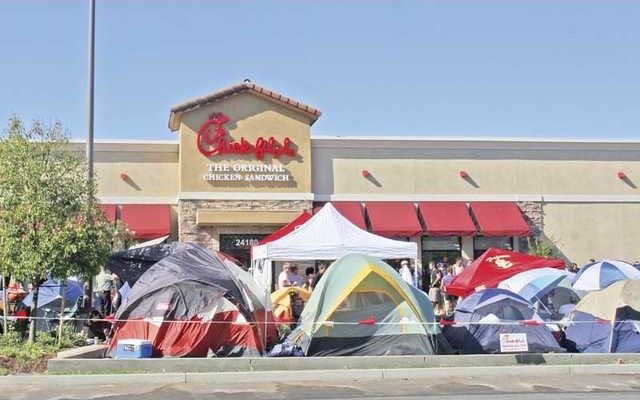 According to Chick-Fil-A Vice President of Public Relations and Public Affairs Carrie Kurlander, massive turnouts are not unusual. She has said that "they come in sub-zero temperatures…rain, shine. The elements do not keep people away." Winners are selected through a raffle drawing and are admitted into the restaurant for what amounts to a 12-hour slumber party.
7. Craziest Subway Location
Subway created a mobile restaurant to accommodate workers at the construction site of the World Trade Center. As the builders moved up the building so did the restaurant. Workers at the site received only a 30-minute lunch break and a trip to street-level could take well over an hour since workers had to wait for the lift.
Subway gave out sandwiches for 18 months from the 27th floor to the 90th, and was one of four "pods" (including a bathroom) moved upward by hydraulic legs. Though the construction contractor lost money due to the restaurant selling only 90 sandwiches of the 200 needed to break even, it helped logistically, saving 90 rides on the hoist per day.
8. Why White Castle Has Holes
The five holes in White Castle patties enable them to be cooked all the way through without being flipped. The tiny, square burgers originally sold for five cents and even though nowadays they can cost up to 39 cents each, people buy them by the dozens with an extra 10 cents to add cheese.
These burgers are cooked 36 at a time on top of a layer of chopped onions and water on a griddle. Each patty is topped with a square bun and as the steam rises through the five holes in the burger, the meat cooks and the buns are steamed. Once they are fully cooked, the patties are placed on the bottom buns and a pickle is added.
9. Sanders Used to Wear a Black Coat
In 1950, Colonel Sanders was recommissioned as a Kentucky colonel by then-Governor Lawrence Wetherby, after which he began to dress the part. The now-iconic look included a goatee, a white suit (which was originally a black frock coat) and a string tie.
Although his associates initially jokingly called him by the title, they soon went along with it "in earnest" according to biographer Josh Ozersky. One of Colonel Sanders' white suits and black (clip-on) bow ties were sold at auction in 2013 for $21,510. It was purchased by Maseo Watanabe, president of Kentucky Fried Chicken of Japan.
10. How Arby's Got It's Name
Arby's was founded on July 23, 1964 in Boardman, Ohio by brothers Forrest and Leroy Raffel. They started out as owners of a restaurant equipment business, but decided to open a fast food restaurant that focused on a food other than hamburgers.
They were unable to go with their original restaurant name "Big Tex" as it was already used by a business in Akron, Ohio. So they chose to spell out the initials of "Raffel Brothers" and got "Arby's". The restaurants originally served only roast beef sandwiches, potato chips and soft drinks and were designed to be more upscale than their competitors that sold burgers.
11. McDonald's Really Are Everywhere
You can't be more than 115 miles from a McDonald's in the continental US. According to Stephen Von Worley, before a northeastern California McDonald's went out of business, the farthest McDonald's was 107 miles away.
In 2010, Von Worley calculated that the new farthest spot is 115 miles away, as the crow flies, from the nearest McDonald's, in northwest Nevada, ousting the previous spot in South Dakota.
12. Turns Out Subway is Everywhere Too
There are more than 200,000 fast food restaurants in the US alone. The number of fast food establishments in the US in 2007 was almost 218,000. By 2018, the number is estimated to reach 247,191. In 2012, Subway had the most establishments with 25,549 stores, followed by McDonald's and Starbucks.
13. Sushi Is Considered Fast Food in Japan
In America, hamburgers, fries and pizza are considered traditional fast foods. However, in Japan, fast food is sushi and bento-type foods while the UK, New Zealand and Australia have fish and chips (which are just what those countries call fries).
14. Hamburger University Doesn't Accept Everyone
McDonald's has turned away more applicants than Harvard. Though McDonald's was once the standard fall back plan for many, a job is not guaranteed. At a "National Hiring Day" in 2011, McDonald's accepted only 6.2 percent of applicants while Harvard usually accepts about 7 percent.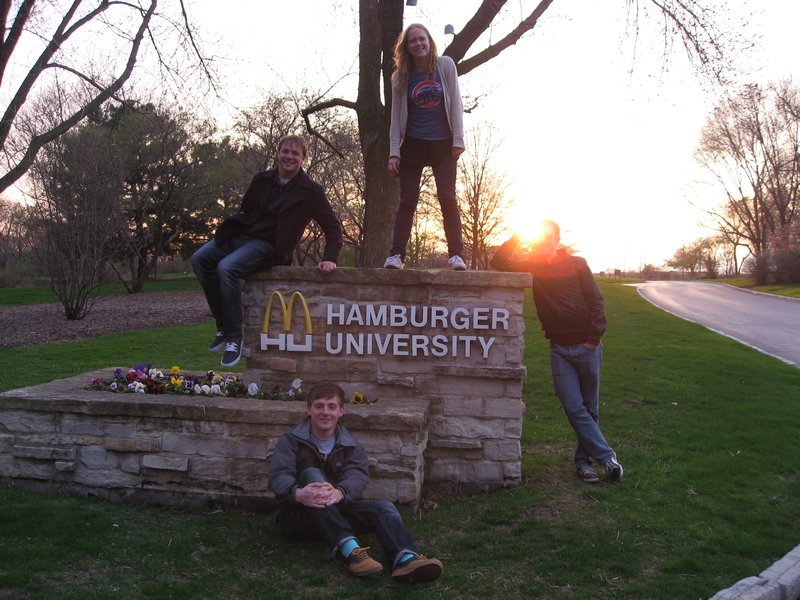 It's not the restaurant, however, it's Hamburger University, the Shanghai branch of McDonald's managerial training program. All restaurant branch heads must graduate from the university. HU is even more discerning than the UK's Oxford (18%) and Cambridge (20.8%).
15. Popeye's Chicken Has A "French Connection"
Popeye's Chicken founder, Al Copeland, claims the restaurant is named after Gene Hackman's character, Jimmy "Popeye" Doyle in The French Connection.
However, the chain later acquired the rights to use Popeye the Sailor for marketing and early on the company's brand became strongly tied to the cartoon character, sponsoring the Popeye & Pals show in New Orleans. In 2006, AFC announced "mutual termination" of the contract, ending the chain's association with Popeye the Sailor.
16. McDonald's Got Rich from Owning Land
McDonald's is one of the largest owners of real estate in the world, earning most of its money from collecting rent rather than from selling food. McDonald's has two methods for making money: buying and selling properties and charging its franchises both a franchise fee (to use the "McDonald's" name) and rent.
17. We Eat A Lot of Fast Food
Consumers in the USA spend over $100 billion on fast food every year–more than they will spend on movies, books, magazines, newspapers, videos and music combined. This may seem like an unbelievable number (to some of you), but don't forget to put this into consideration: kids between the ages of six and fourteen eat fast food a whopping 157 million times each month while 50 million Americans are served every day.
18. Before Ronald There Was Speedee
McDonald's first mascot was a little chef named "Speedee" who had a hamburger head. Created by Willard Scott who originally portrayed Ronald McDonald in 1963.
He was also the first company logo before the Golden Arches design, used 1948-1962. He did not appear in any commercials and was replaced by Ronald McDonald. Some older McDonald's stores still have a Speedee sign in front.
19. Chipotle's Founder Is A Fancy Chef
Chipotle was founded by Steve Ells to raise funds for a fine dining establishment. Ells attended the Culinary Institute of America in Hyde Park, New York. After graduating in 1990, he served for two years as a sous chef at Stars restaurant in San Francisco. He borrowed money from family and friends in order to open the first Chipotle.
20. Chipotle's Celebrity Avocados
When singer Jason Mraz moved to a property with hundreds of avocado trees, he teamed up with Chipotle, supplying them with a small percentage of their avocados, while keeping some for himself and eating two to four avocados per day. Workers come out a few times a year to pick the avocados that add up to a 30,000 pound harvest per year.
21. The Original Pizza Hut is Still Open
The first functional Pizza Hut is still open and operating. It is located in downtown Wichita, Kansas and was founded in 1958 by brothers Frank and Dan Carney while attending college.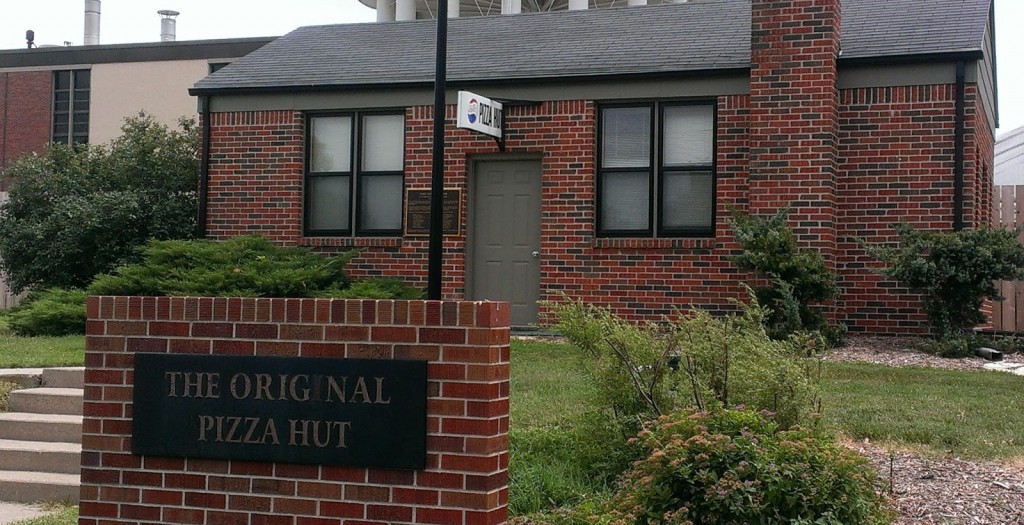 They borrowed $600 from their mother and opened the first Pizza Hut which was eventually moved to the Wichita State University campus. The first franchise was opened in Topeka, Kansas a year later.
22. FEMA's "Waffle House Index"
W. Craig Fugate, administrator of FEMA uses the "Waffle House index" to determine the severity of a natural disaster. Here's how it works: If Waffle House is open serving a full menu, the index is green meaning there is water and power and area residents should be well off.
If the restaurant is open but serving a limited menu, the index is yellow meaning there is water but no power. The Waffle Index is red when the restaurant is closed which means there is neither water nor power.
23. Ben & Jerry's Started In a Gas Station
The widely-loved Ben & Jerry's ice cream had very humble beginnings. In 1978, Ben and Jerry opened their first ice cream shop in a renovated gas station in Burlington, Vermont. Two years later, they rented space in an old spool and bobbin mill in the same town where they began packing their ice cream in pints which Ben then distributed to grocery and Mom & Pop stores out of the back of his VW Squareback.
24. Whopper Stands For It's Calories
You would need to walk nine miles to burn off the 923 calories found in Burger King's Double Whopper with cheese. Calorie-wise that's equal to five chocolate bars!In the UK, the Double Whopper was promoted as the supersize burger for men fed up with healthy "chick food" and commercials asked viewers "Are you man enough?". The campaign came out just a few months after the Bigger Big Mac which contained 669 calories.
25. America's Fast Food is Different Around the World
Depending where you are in the world, you might find dishes you've never heard of on the menus of well-known fast food restaurants. If you like to travel, you may have had Dairy Queen's Steakfinger Basket from Texas and McDonald's Ebi Filet-O in Japan.
Other off menu items include: McCafé Cupcakes in Germany, Domino's La Savoyarde in France or Dunkin' Donuts' Dry Pork and Seaweed Donuts in China. Similarly, out of respect for Hindu religious beliefs, Hamburgers are not served at McDonald's in India.