Christmas time yields two extremely opposite reactions from people. For some, it is this dreaded season where you have to scour malls to get family, friends, and co-workers the perfect gift to show them you appreciate their presence in your life. On the other end of the spectrum is this special group of people who feel that Christmas shopping is one big scavenger hunt. The adrenaline is flowing, the cash register keeps ringing, and the DIY masters get out of their mouse holes.
Whether you belong in the first or second group, we are confident that you will appreciate these 22 weirdest Christmas gifts you can give to the strange characters in your life. You don't think there's anyone especially strange who graces your existence? Man, get out more! Strange characters give more color to our life. They're that extra shot of espresso to an otherwise bland latte. And if you're the type to give scented candles, which you didn't even bother to smell at all, and generic boxed Christmas greeting cards, Santa Claus is sure to put you on his nasty list. Yes, you deserve that.
1. Knit Your Own Beard
Knit Your Own Beard is for that man friend in your life whose beard gods have deprived him of beard-growing hormones. You don't even have to stop there, give it to that woman who refuses to take care of that misleading patch above her lips. What about that "little boy" at the gym who can't grow his muscles? This is the first step to manhood. Knit Your Own Beard comes with instructions, but who bothers to read those?
2. Face Beer Mats
Have you ever been in front of somebody who, when he/she drinks beer, the beer just sorta leaks from mouth to the chin to the shirt? And you're just like, dude, beer belongs to the mouth and the tummy and the beer goggles? Or ever had the temptation to lick the beer from their chin? Face Beer Mats are the answer!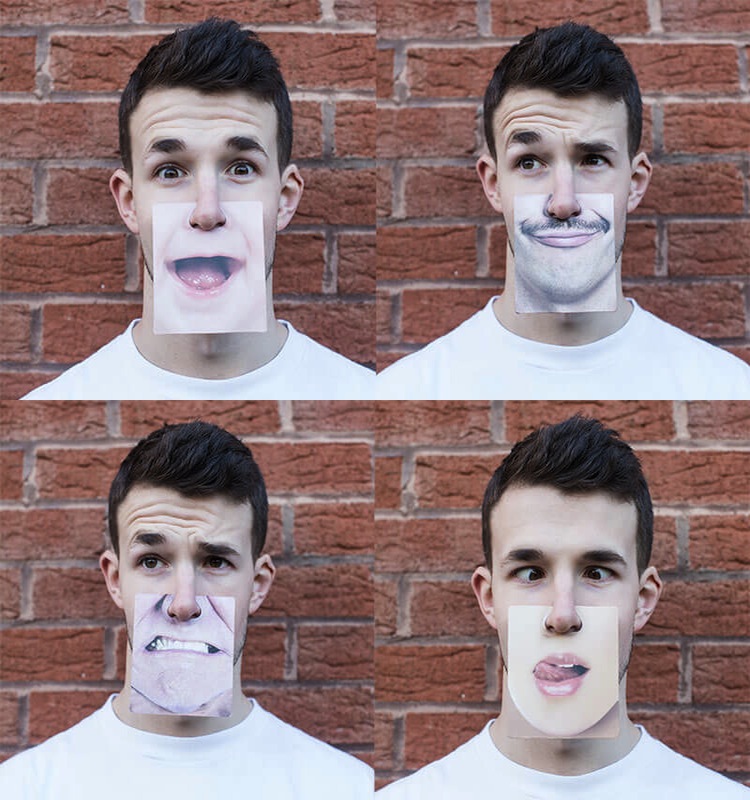 3. Channing Tatum Earrings
This pair of Channing Tatum earrings is the perfect gift for that girlfriend who, shamelessly, just cannot get over Channing's yummy abs and hot dancing. Hello, Magic Mike, is there a third installment in the works? Because noise and underage drinking must be rewarded with a sexy dancing cop.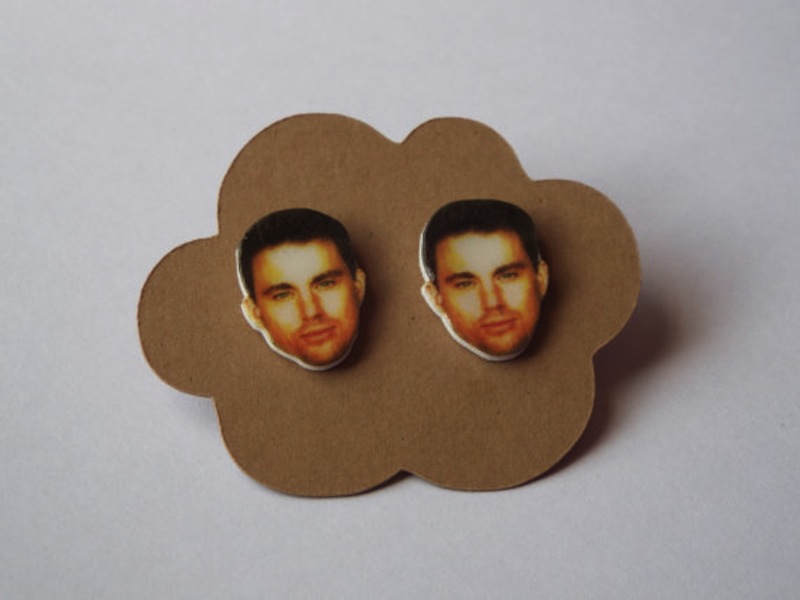 4. PacMan Novelty Fridge Magnets
These PacMan Novelty Fridge Magnets will be best appreciated by someone who waxes poetic about the the great '80s and '90s, when game consoles left you with stiff, crooked fingers and a big smile on your face.
5. Sandal Sock
Remember when you used to annoy your mom wearing your sandals with socks? Back then, you thought you were rocking it but do that now, and boy, wouldn't you get the scorn of fashion bloggers all over the Internet! Well, actually, why don't you? Buy a pair for you and every one in your posse!
6. A Jar of Nothing
You know those people who are impossible to shop presents for because they have everything in life? Yet, you want to let them know that they are such wonderful creatures to have around? Presenting: the only perfect gift: A Jar of Nothing!
7. Bacon Toothpaste
We all know that one person who has a deep and profound love for bacon, that person who thinks bacon is God's reward for waking up early and filing your taxes, that person who thinks bacon deserves every tiny space on their tongue. Oh, to separate their tastebuds from bacon is such cruelty!
8. Bacon Soap
Why stop at Mr. Bacon's Bacon Toothpaste? That bacon-loving friend who has been tremendously a sweetheart to you deserves both the toothpaste and this delicious bar of Bacon Soap! Warning: might encourage licking from serious bacon hounds.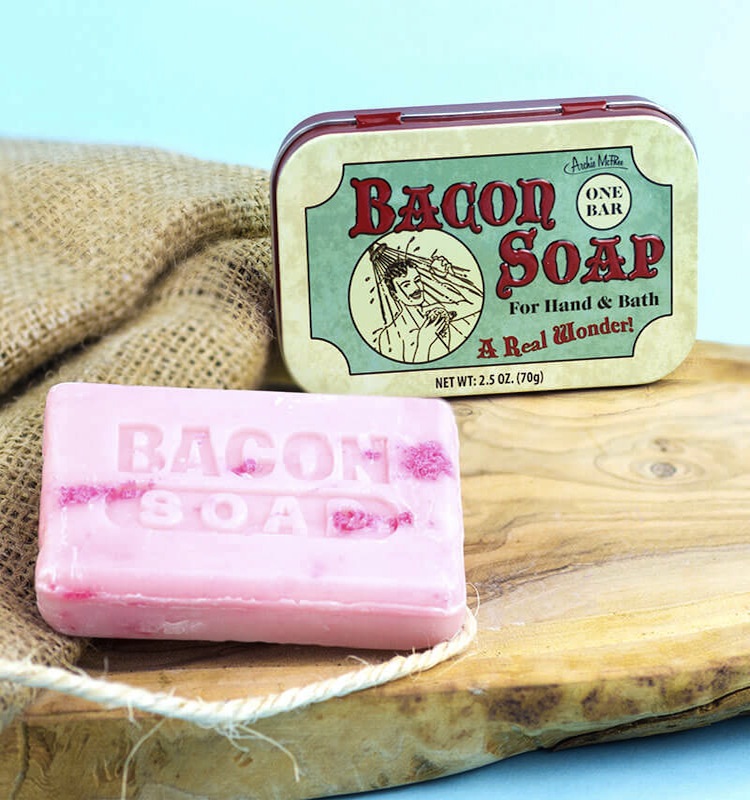 9. Up Yours Mug
The Up Yours Mug is not for the faint of heart. On the contrary, it is for those who like their coffee strong; coffee, so strong that it gives a big, hard and obnoxious up yours as you reach your last gulp. Suggestion: give that to your relentless boss who is a nag about deadlines.
10. Instant French Accent Spray
In an unofficial survey conducted by the School of Sexy Accent Research Department, it was found out that French accent is the number one accent to knock to knock the panties off ladies worldwide, followed closely by the British accent and not even remotely by Klingon. This spray is as no-nonsense as is labeled on the can: French accent in an instant or a refreshing spearmint-y breath at least.
11. Hangover Kit
A hangover is life's nasty revenge from a fun night out. Make your loved ones feel that you're thinking of them with every bottle of beer, glass of wine, and shots of tequila with this hangover kit. Its contents are basically just stuff that you can find at home: toothpaste and toothbrush, a sachet of coffee, extra strong mints, tissues and fresh wipes, an eye mask and a glucose tablet. Yup, stuff that are easy to find when you're not suffering from a massive headache.
12. Sculpt Your Own Boyfriend
Every woman has a dream of finding her ideal man but the problem of every woman is that her ideal man does not exist. Well, not anymore! The Sculpt Your Own Boyfriend package allows you to create a boyfriend that is to your exact liking. Give this to a girlfriend who complains that all men are one and the same and that bacon is a better lover.
13. Is Your Cat Gay?
In this day and age where same sex marriage is allowed in most states, some still do not find the comfort they need to live their sexuality – and that may include cats. Help your family and friends coax their kitty out of the closet with this helpful guide written by Charles Kreloff and illustrated by Victoria Roberts.
14. Ninja Gnome
Regular gnomes cannot protect homes from intruders because, duh, they're just too cute. They couldn't even stop an old woman from giving their princess a poisonous apple. So, if you're thinking of gifting your parents with garden gnomes, here is a better alternative! Think of it as your favorite garden gnome with a secret set of skills unlocked.
15. Cure for Farting in Bed
There are only a few things more unbearable than a partner who constantly passes gas in bed. Yes, this is the only perfect gift for that kind of partner. The Cure for Farting in Bed kit doesn't come with a warranty because the makers do not guarantee absolutely no farting. What they guarantee, however, is a luxurious, tension-easing bath with lots of laughs because, really, if you had a partner who constantly farts in bed and with no sense of humor, darling, you're screwed.
16. The Man Apron
Any lady who is blessed with a man who cooks is #blessed, with a man who is a lot like Jamie Oliver has hit the boyfriend jackpot. Oh, but darlings, don't humiliate your man by letting him wear your dainty pink apron with cupcake frosting stains. The Man Apron has pockets for all the cooking essentials such as beer, phone, matches, ketchup and mustard, and tool rail for tongs, spatula, and whistle to call the pack. It also comes with a detachable hood and bottle opener.
17. Star Wars Origami
With the release of Star Wars Episode VII: The Force Awakens, all the geeks who have anticipated this installment for a decade are coming out of their shell. Share in their triumphant celebration by gifting all your Star Wars-aficionado friends with this Star Wars Origami set. Each set comes with 36 Origami models and 72 working sheets to turn every Padawan into a Jedi.
18. Bang Head Here Plaque
Are you tired of being your friends' stress absorber? Do you feel like you have to buy a therapist's chair to place in your living room? Do you feel like you could make a thousand dollars more if you started charging your friends for therapy? This is the most ideal present for friends whose stress levels can no longer be alleviated by expensive spa treatments and bottles of wine. *Comes with direct, explicit instructions.
19. Fetch My Keys Key Finder
We all have that family member who never knows where the keys are (here's looking at you, dad). Spare them – and yourself – the waste of time looking for and arguing over the misplaced keys with this Fetch My Keys Key Finder. With this brilliant product, no time is wasted going through every pocket of jeans, the inseams of the couch, and the refrigerator a dozen thousand times. All that needs to be done is to whistle. Wow, right?
20. How to Poo at Work
This is for your co-worker who cannot poo at work no matter how hard they try. There's something about dropping a deuce at work. It's probably because the environment forces you to take your work cubicle stress to the toilet cubicle. Or probably because it's difficult to release a stinker when the people who draft your payslip can smell it. This. Is. The. Perfect. Solution.
21. Catapencil
Do you have a little one who is constantly being bullied by a classmate? Are you always being bullied by someone? ARE YOU A BULLY?! This Catapencil allows users to throw quick and tiny pellets of terror at their objects of aggression. It also comes with a pencil to make easy sketches of targets.
22. Sex Tips for Husbands and Wives from 1894
This handbook is the ideal gift to give your couple friends who need outdated tips to spice up their sex life. Sex Tips for Husbands and Wives from 1894 will also be appreciated by couples who have a fetish for antique time-traveling debouchery. This definitely makes for an amusing read, but on each page is the hope that there results an appreciation for all things that have changed for the better in the last century.
Click →HERE← for more taboo news!